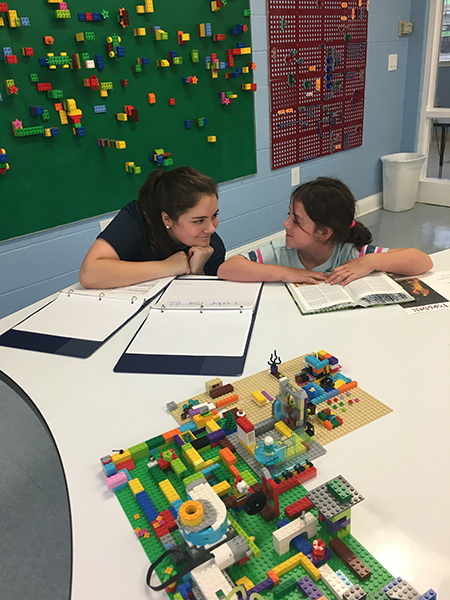 Pre-K: 8:30am
Parents join their preschool children for 45 minutes of creative, hands on projects entitled "Messy Church" designed to acquaint young hearts and minds with the good news of the gospel. Older siblings are welcome to accompany and assist.
CHILDREN'S SERMON
During the sermon in the 9:15 a.m. worship service, children of all ages are invited to hear a children's sermon in the undercroft.  Children are led to the undercroft by an acolyte or the Sunday school director.
Elementary: 10:30am
Following the worship service, traditional Sunday school begins for ages 5 to 12 years old. Parents are invited to participate in an adult forum while children are in Sunday school.  We encourage parents to sign up to help once each semester.
Vacation Bible School
Though we do not have Sunday School during the summer months, we usually have a Vacation Bible School for school age children. This is a vibrant and fun time that includes things like rocket ships, slip and slides and even field trips. Our Youth Group helps the Christian Education Director during VBS, which makes it especially fun for the children to get to play with the 'big kids'.
Thank You Parents
We know that you face many challenges (sleep, lost shoes, sports games, birthday parties, etc) to getting your children to church every Sunday morning, and we know it can be a struggle to even get out the door. But we also know that it is worth it. Instilling Jesus's love for them into their hearts and minds provides kids a kind of comfort and confidence like no other. Thank you for giving your children that love.
SUNDAY SCHOOL
Sunday School students ages 4 – 12 are taught by grade, and use a fun and engaging curriculum that includes music, movement, stories, crafts, manipulatives, videos, skits, projects, special guests, and service projects. Highlights of the Sunday School year include our annual Christmas Pageant and our annual Arts Night, when students perform and create and sell their art as a fundraiser.  For convenience, Sunday School is held at the same time as adult forums, so parents can fully participate in adult groups and activities.
Middle and High School students participate in our Youth Group, which meets Sunday Evenings.  This dynamic, welcoming, and judgment-free group of faithful and thoughtful teens gather to have fun together and to apply our Christian values to our everyday lives. We do lots of fun trips and service projects together as well as meetings to discuss how to deal with teenage life today.  One of the highlights for many of our students is the summer mission trip.  All students in grades 6 – 12 are warmly invited and encouraged to come join us!
As required by the Episcopal Diocese of Washington, DC (EDOW), all teachers and staff must attend the training titled Safeguarding God's Children before working with children. All training is free.
Most teachers are parents of children in Sunday School who take a turn in teaching a class during the Sunday School Year. We also strongly believe in having the involvement of St. Francis adults who don't have young children at home. By supporting the children's growth in Christ, they share with the children their wisdom, love for Jesus, and their commitment to the St. Francis Episcopal church family.