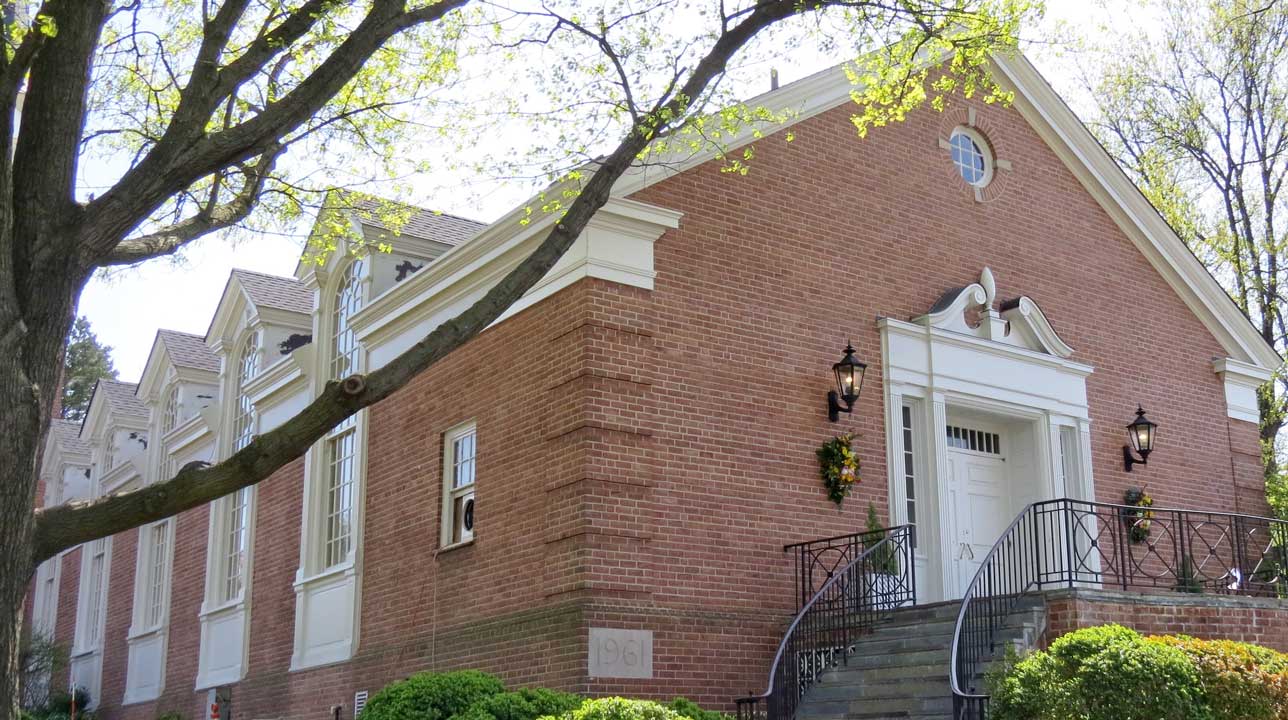 Welcome to St. Francis Church
We're an active and growing congregation in the heart of Potomac Village. Whether you are just curious or are searching for a place to worship and belong, we are delighted you have found us. Saint Francis is a warm and caring community of families and singles, young and old. We have members from all backgrounds and religious traditions. We're growing in faith and love as we follow Jesus Christ together.  Our church family is connected and supportive, and many of us enjoy deep, long term friendships.  We think you'll find that our church is easy to visit – Expect several of us to introduce ourselves and offer our assistance.  We are welcoming but not pushy, and we do our best to make visitors feel at home here.  Please ask us any questions you have – we're here to help, and we strive to offer you the same welcome and friendship that were extended to us when we first came to Saint Francis.
Even through these months of pandemic, quarantine, and social distance, St. Francis stands strong together to meet the needs of our community.  We implemented live-stream worship within 36 hours of being required to close for in-person worship, and returned to in-person worship as soon as we were able.  In addition, our classes and activities continue both in-person and live stream.  Times like these highlight the special connection of our church family as we come together to support and help those in our midst who are struggling or lonely.  We continue to offer in-person and live stream services, as well as classes, luncheons, gatherings, service projects, prayer meetings, and more as we support our parishioners and our community during this unprecedented time.
God bless,
Father Mark, Pastor Allison, and the people of St. Francis
We are glad you are here!
We welcome everyone to worship with us. Whether you are an Episcopalian, come from another religious background, are new to Christianity or have not participated in corporate worship before, we offer you a warm welcome.  We offer services throughout the week and our vibrant Sunday School program and engaging Adult Education program both present a variety of topics and formats.  As a church family, we are known for supporting those in need within our parish, in our community, and around the world.  We are a community of caring people who walk together in love to do God's work.
We have several services throughout the week:
Sundays at 9:15am:  Our Sunday services are Anglican services using traditional liturgies and lots of music, and we provide a bulletin to help you follow along.  The hymns are found in the blue Hymnal in each pew. Please join us after the 9:15 service for drinks, snacks and fellowship in St. Francis Hall.
During the summer, service is held at 10am.
We LOVE baby & children sounds (happy or not), even during our worship services. We offer busy bags for young children, as well as a professionally staffed nursery for infants and toddlers weekly in the church undercroft. Sunday School for our children ages 3-7 is held from 9:00, concurrently with the service. The children are brought in at the sharing of the Peace so they can join their families for Holy Communion.  After church, please join us for coffee and donuts (or lemonade in the summer).
Weekday Morning Prayer & Holy Eucharist: Our Morning Prayer services are offered at 9am on Wednesday and Friday.  This brief service is a great way to center yourself for the day.  Part of the Daily Office, it is based on the the monastic tradition and includes psalms, Scripture, and prayers. There is time for private intercessions offered either silently or aloud as well as silent reflection.  After Morning Prayer, the Holy Eucharist is celebrated.
Weekday Evening Prayer: Our quiet Evening Prayer services are at 5pm on Wednesdays and Fridays.
Our fellowship and outreach programs are fun and worthwhile, and they help bring our parishioners together as a family.  We invite you to come see what is so special about the St. Francis family, and to join us as we Love God and Love Our Neighbors.