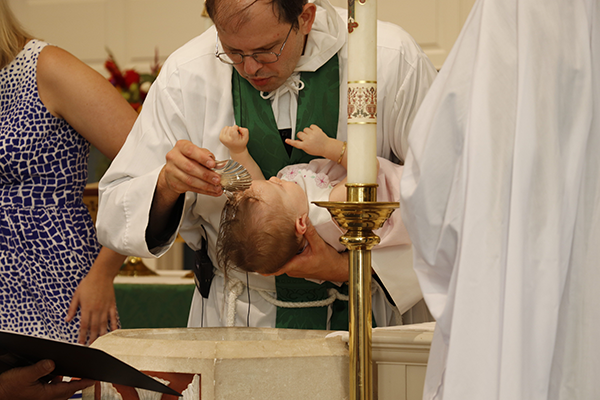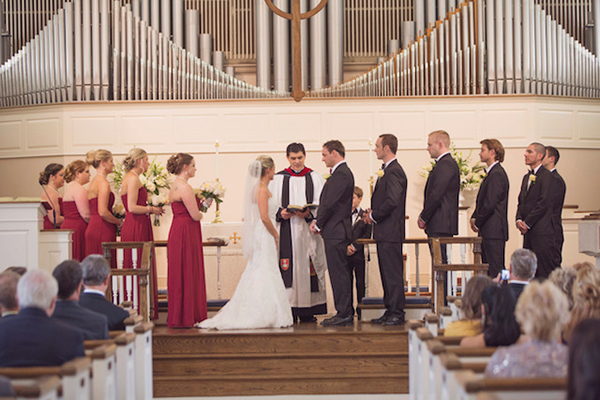 Sacraments
Please contact the parish office at (301) 365-2055 for more information about any of these sacraments.
Baptism
Baptism is the first and most important way that we begin our relationship with God.
At Saint Francis, we baptize infants, children and adults. We believe that in Baptism we begin a relationship with God through Jesus Christ, and we receive forgiveness, new life, and the gift of God's Holy Spirit. When we have been baptized, we also are invited by Christ and His Church to receive Holy Communion and the other Sacraments of the Church.
We prepare for baptism by learning more about the Christian faith and life, through a series of conversations shaped by your particular needs and experience. Baptism is usually administered at a Sunday morning service, but alternate times can be arranged.
Rite of Confirmation
The Rite of Confirmation is a sacrament of the Church, and is administered to those who have already been baptized and who desire to make a mature affirmation of their faith and commitment to Christ. We believe that God works in a powerful way in confirmation to fill us with the Holy Spirit, and to equip us for following Christ in the world.
Before we are confirmed, we prepare by participating in a course that explores the basics of the Christian faith and the particular traditions and practices of the Episcopal Church. Those who have been previously confirmed in the Roman Catholic and Eastern Orthodox churchesmay also participate in this class and can be received by the bishop at the confirmation service. When the course is finished, those who feel prepared participate in a confirmation service, led by our bishop either here at St. Francis or at the National Cathedral.
Marriage
At Saint Francis, marriages are celebrated and blessed throughout the year. If you desire to be married in the church, please contact Father Mark Michael as far in advance as possible. Pre-marital counseling is a requirement.
Typically, marriages are held at Saint Francis for members of the parish. However, there are circumstances in which non-member marriages may be held at Saint Francis. It is hoped that for non-members the preparation for marriage within the church will present opportunities to re-engage the Christian faith for one or both parties.
Funerals
Funerals and Memorial Services St. Francis and the clergy are available to perform Funeral Services for parishioners and their families. We also have spaces large and small that can be used for receptions. Our funeral committee will help you plan and coordinate. Contact the clergy to inquire.
Columbarium
Our peaceful columbarium offers a serene resting place among the beautiful garden on our church campus. Niches in the St. Francis Columbarium may be purchased by parishioners who have been canonical members of Potomac Parish for at least two years.